Christmas at Lower Precinct
We are excited to bring you not one, not two but four very special events to our shopping centre in the lead up to Christmas!
On Saturday 2nd of December, between 11am until 3pm we will be hosting our very own Lantern parade. We will encourage our shoppers to participate in a crafting workshop where you can create your own enchanting lanterns*. We will then invite everyone back at 2:45pm for the parade around the shopping centre showcasing the lanterns that were made earlier on in the day. Lenny the Lion, will be leading the parade whilst also spreading festive cheer.
On the 9th of December we will welcome a giant bauble snow globe into the centre and welcome our lovely shoppers along to step inside whilst on their way past and snapping photos, of course tagging #Lower Precinct Christmas on their own devices.
On Saturday 16th December, come along and immerse yourselves into the Santa Experience. Throughout the day, Santa and his Elves will tell some magical stories from the North Pole, this storytelling session will last 25 minutes and will include help from Santa's Elves. Once the storytelling is over, Santa will invite his Elves to conduct Elf Training. Our mini shoppers will be taught the Elf Wave and the Reindeer Wave. Both are very important code languages between Elves! Throughout this training they will also be tested on their Elf Knowledge. Once they have completed their vital Elf training, Santa will return for a Q&A session where mini shoppers can ask him all about the North Pole and also let him know what is on their Christmas list! Once the workshop has completed, shoppers will be gifted a small gift.
Lastly, just in time for Christmas on the 23rd of December, as many of us tend to leave our Christmas Shopping until the last minute, we would like to help shoppers out by providing complimentary Gift Wrapping services. Our lovely dedicated team will be equipped with an array of wrapping paper, gift bags and festive bows. This service is designed to help reduce your stress and make your Christmas shopping experience at Lower Precinct truly special!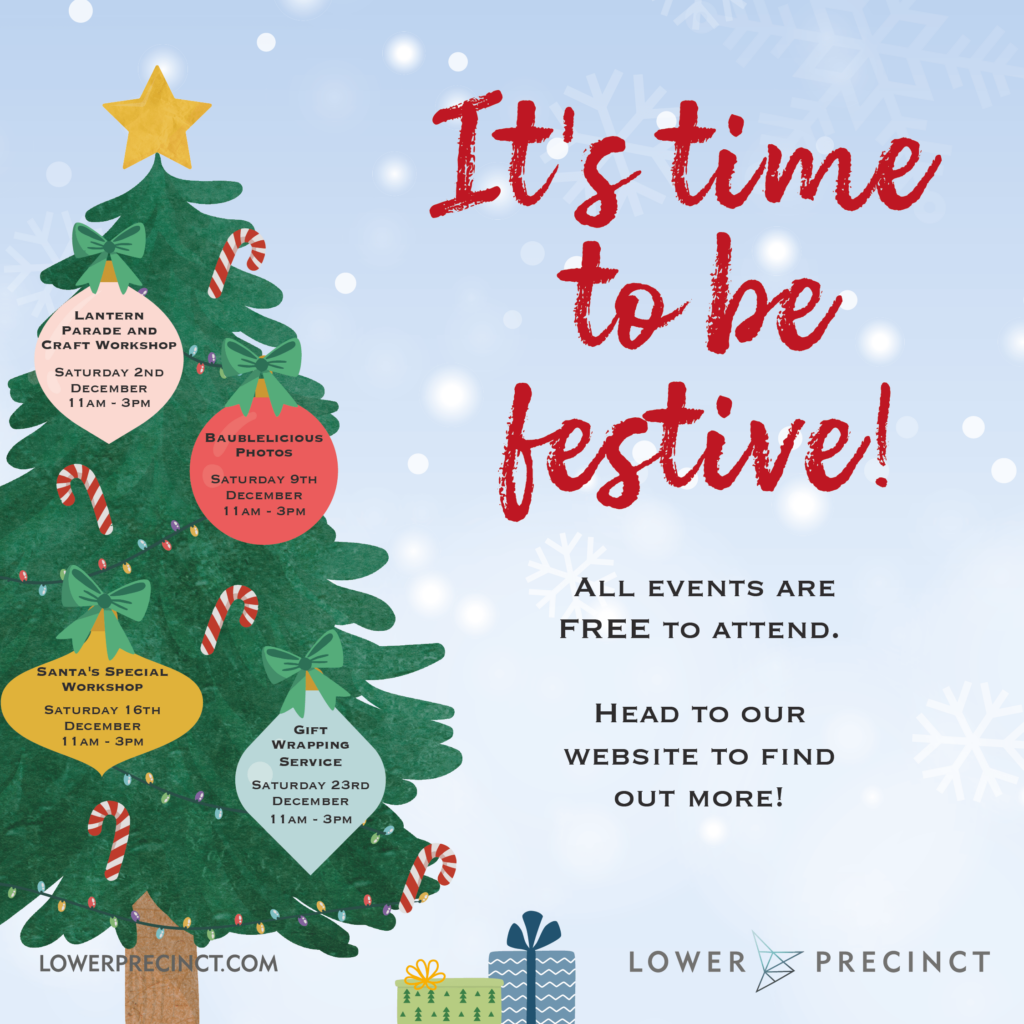 Event Terms and Conditions
Children aged 16 and under must be accompanied by an adult over 18
This event is free to attend.
Lower Precinct reserves the right to refuse entry.
Lower Precinct at its absolute discretion reserves the right at any time to cancel or amend events, activities, workshops, alter times, prices and services without notice.
If the event is cancelled in its entirety, Lower Precinct will use our reasonable endeavours to notify you as soon as reasonably possible.
Dogs and all other pets are not permitted within the Lower Precinct or any events. This is with the exception of Assistant Dogs and some restrictions do apply.
Admission to any event, activity or workshop is at your own risk. Lower Precinct will not be held liable for any loss, injuries or damages or emotional distress sustained at or during or following the event, activity or workshop including damage, theft or losses to property and motor vehicles.
Please note that CCTV, film cameras and photographers may be present. By entering Lower Precinct, you consent to filming stills photography and sound recording and its use in distribution (commercial or otherwise) without any payment.
If you experience any problems during the event, activity or workshop, please contact a member of Lower Precinct staff, as it may not be possible to resolve issues after the event, activity or workshop.