Space Science
Come along and join us this Summer holidays for a Summer of space science fun!
Every Saturday throughout August from 11am until 3pm, enjoy a fun-filled day of activities and experiments.
Saturday 5th August
Come along to 'Professor Zoom's Laboratory', where you can be a boffin and explore science fun in a hands-on workshop.
Saturday 12th August
Join us in our eco-friendly science themed workshop, where your little ones can get in tune with their inner artistic self.
Saturday 19th August
Take part in the Lower Precinct food laboratory workshop, where the aim is to extend children's understanding of kitchen science with fun experiments (whilst of course wearing a lab coat and goggles).
Saturday 26th August
Join Madam Moon in the Star Laboratory, where your little ones can take on star scrabble and a DIY rocket launch, just to name a few.
Just as a parent reminder, some of the activities can be messy!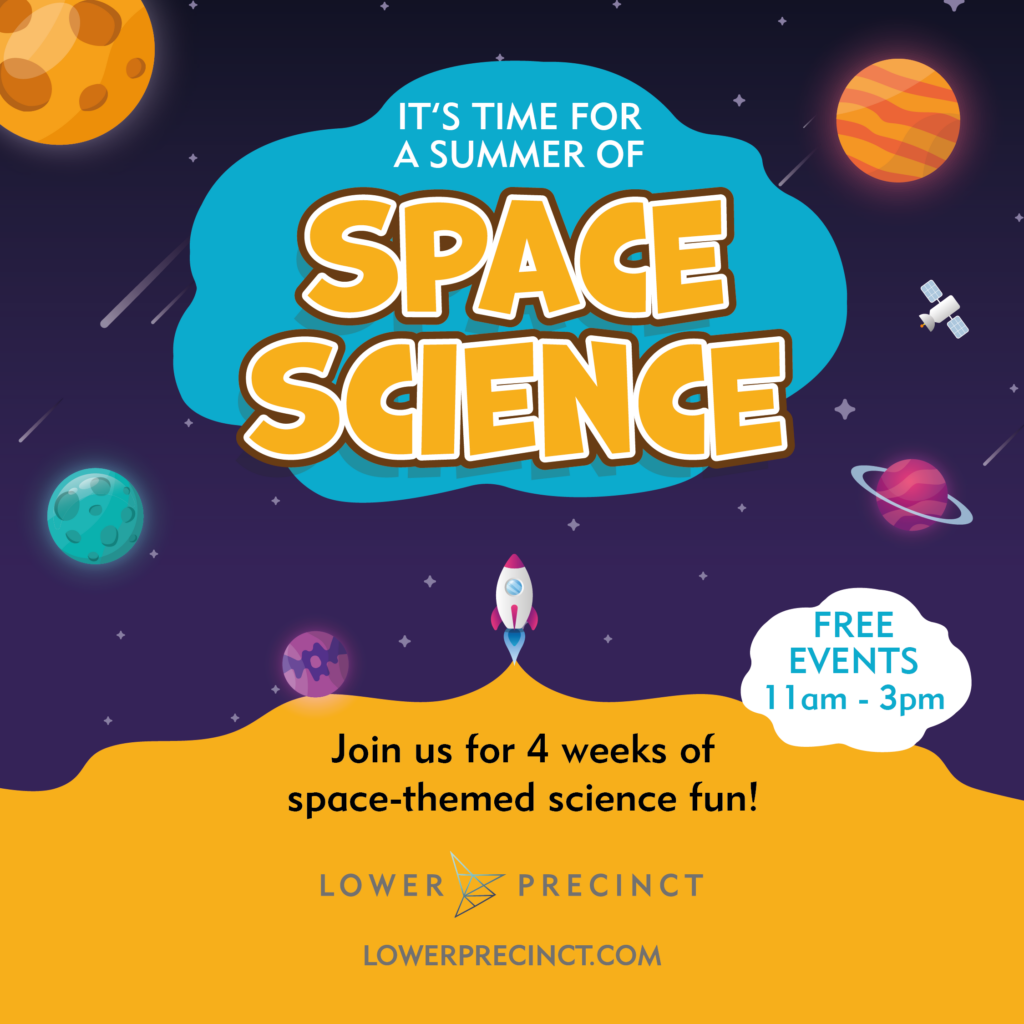 Event Terms and Conditions
Children aged 16 and under must be accompanied by an adult over 18
This event is free to attend.
Lower Precinct reserves the right to refuse entry.
Lower Precinct at its absolute discretion reserves the right at any time to cancel or amend events, activities, workshops, alter times, prices and services without notice.
If the event is cancelled in its entirety, Lower Precinct will use our reasonable endeavours to notify you as soon as reasonably possible
Admission to any event, activity or workshop is at your own risk. Lower Precinct will not be held liable for any loss, injuries or damages or emotional distress sustained at or during or following the event, activity or workshop including damage, theft or losses to property and motor vehicles.
Please note that CCTV, film cameras and photographers may be present. By entering Lower Precinct, you consent to filming stills photography and sound recording and its use in distribution (commercial or otherwise) without any payment.
If you experience any problems during the event, activity or workshop, please contact a member of Lower Precinct staff, as it may not be possible to resolve issues after the event, activity or workshop.